Young suns still lie within dusty NGC 7129, some 3,000 light-years away toward the royal constellation Cepheus. While these stars are at a relatively tender age, only a few million years old, it is likely that our own Sun formed...
What is that strange arc? While imaging the cluster of galaxies Abell 370, astronomers had noted an unusual arc to the right of many cluster galaxies. Although curious, one initial response was to avoid commenting on the arc because nothing...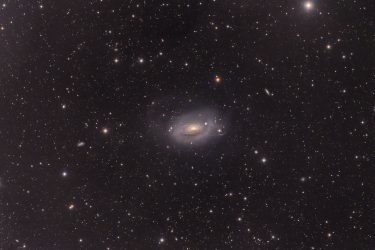 The Sunflower Galaxy blooms near the center of this wide field telescopic view. The scene spans about 2 degrees or 4 full moons on the sky toward the loyal constellation Canes Venatici. More formally known as Messier 63, the majestic...